Light Therapy is being used to help treat depression all over the world. Many people struggle with Seasonal Affective Disorder, which is a form of depression that occurs annually during the fall and winter months. Due to the fact that there is little to no sun during these months and the time changes make it difficult to keep track of what time of the day it is, it is easy for depression to settle in. For people that struggle with depression regardless of the time of year, Light Therapy has also been proven effective. Light has the power to lift energy levels, making it easier to live with depression. Also, depression and insomnia commonly go hand in hand. Light Therapy helps keep the brain's internal clock in check which can help fight insomnia. Waking up to "sunlight" in your room can awake you in the right mood and remind your body that it is time to arise and get the day started.
Whether you're struggling with Seasonal Affective Disorder, depression, insomnia, or any other disorder that's got you down, Light Therapy might be the right path for you. A simple light box that you leave on your desk may flip your life around. Spending as little as thirty minutes in front of a light box while you read, work, eat, write, or knit may be what you need to feel like yourself again. More 3 million people in the United States are diagnosed with depression each year. If you or someone you know is one of those 3 million people, Light Therapy can take a heavy burden off your shoulders. Shouldn't you give it a chance? This is why we made a list for you. Below you will find the best at home Light Therapy products currently on the market. All of these products are highly reviewed, easy to use, and have the power to drastically improve your life. What are you waiting for? Start reading!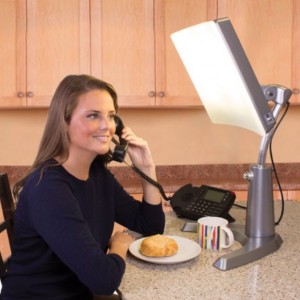 Carex Health Brands Day-Light Classic Plus Bright Light Therapy Lamp
Amazon for $119.79 (on sale!)
If you're going to fight depression, why not do it the right way? The Carex Health Brands Day-Light Classic Plus Bright Light Therapy Lamp is one of the best at home light therapy devices on the market. This lamp provides the maximum recommended 10,000 lux of glare-free white light. It safely blocks 99.3% of UV rays. It also projects the light downwards, which is doctor's recommend as the best method for treatments. The angle and height are both adjustable, making this lamp easy to use in most places. Spending as little as 15 minutes each morning in front of this lamp can drastically increase energy levels and have you feeling rested and ready to take on the world.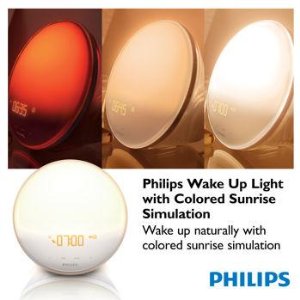 Philips HF3520 Wake-Up Light With Colored Sunrise Simulation
Amazon for $129.99 (on sale!)
Dawn/sunset simulators are one of the best treatment methods for Seasonal Affective Disorder, depression, or insomnia. The Philips HF3520 Wake-Up Light mimics the sun rise each morning and the sunset each night at the time of your preference. This device is slightly different than most simulators on the market. Philips actually made this light to mimic the colors of the sun which will help you gradually wake up or fall asleep. There is also a choice of 5 natural and calming sounds. Waking up in this fashion each morning is guaranteed to start your day off right as well as keep your circadian rhythm (your mind's internal clock) in check. Letting yourself wind down with the colors of the sunset will also improve your nightly sleep.
Aside from being a simulator, the Philips HF3520 Wake-Up Light is also an FM radio and a tap-to-snooze alarm clock. Why wouldn't you want to add this product to your bedside table? It has everything!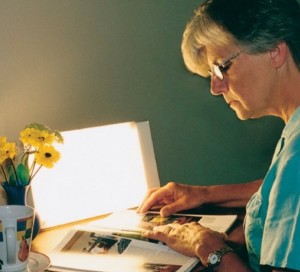 Northern Light Technology Travelite
Amazon for $164.99
Fighting depression, no matter what kind it is, requires consistency. When undergoing Light Treatments it is important to set a schedule and stick to it. For people that travel a lot, spend most of their day at work, or live in a small home, it is important to use a light therapy device that can easily fit into these unique lifestyles. This is why the Northern Light Technoology Travelite is one of the best at home light therapy products for depression on the market right now. This light box offers 10,000 lux of diffused light at a safe and comfortable 12 inch distance and only uses 48 watts of energy. Weighing in at only 2.9 pounds, and 13 inches in height, this lamp is extremely powerful and effective for it's size. Don't be fooled! It also includes a folding stand that can support the panel in either the vertical or horizontal position. The Northern Light Technology Traveliteis UV free, meaning it's harm free and safe for anyone! Time to add this light therapy device to your travel bag!