By LTR Staff
April 2017
Is there anything more American than spending summer on the lake? Every summer, extended families from all corners of the country head to their favorite lake town to laze on the beach, boat over crystal blue waters, and spend long evenings grilling and socializing.
With such special summertime memories in mind, we went on the hunt for the 30 most charming small lakefront towns in America. We looked specifically for family-friendly destinations with activities to suit every kind of interest. Here are the 30 best small lake towns that will have you counting down the days until summer vacation.
Bemidji, Minnesota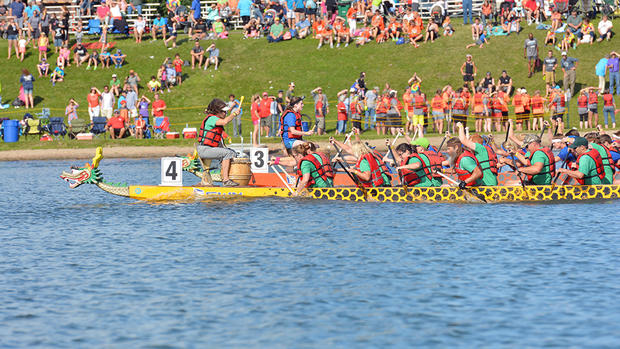 Bemidji, Minnesota has been described as a "Norman Rockwell painting come to life." With clean beaches surrounding Lake Bemidji, a welcoming downtown area, and a local community calendar full of fun summertime events, Bemidji is a great lake town in which to spend summer with the family. Some of the town's summer highlights include the Fourth of July celebrations and the Dragon Boat Festival, a unique Mardi Gras-like event that occurs annually during the first week of August.
Bigfork, Montana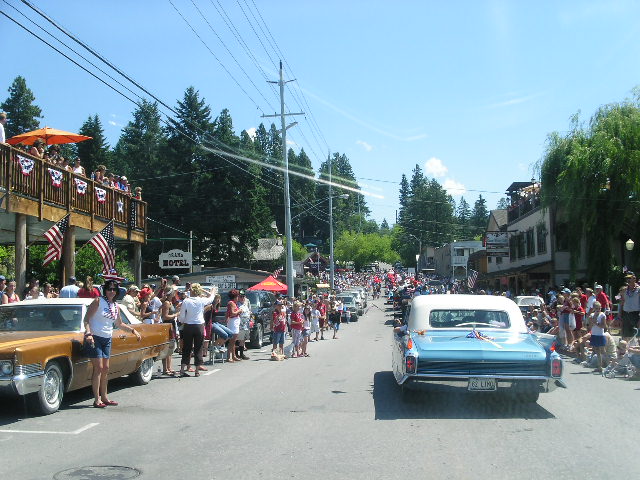 You'll want to spend all summer in this classic and traditional lake town. Life in Bigfork revolves solely around spending time outdoors at Flathead Lake. Measuring 27 miles across, the picturesque lake is the perfect place for hiking, camping, fishing, and boating. When you're not spending time on the water, check out Bigfork's full calendar of fun summertime events, including the Bigfork Festival of the Arts, a live theater series, and a weekly outdoor concert series.
Charlevoix, Michigan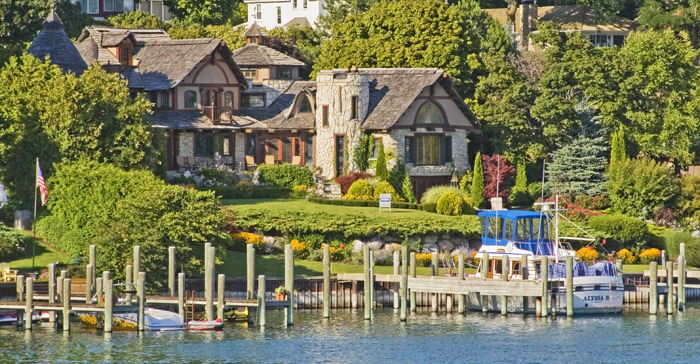 Michigan averages one lake per square mile, so it should come as no surprise that the Great Lake State is home to plenty of lake towns. One of those towns is Charlevoix, a charming lakefront town with not one, but two lakes to enjoy during the summer. The town itself is chock-full of mom-and-pop owned restaurants, cafes, and shops — the result of a law passed by residents to limit the presence of big box stores — plus lots of unique architecture, parks, beaches, and even a state park.
Chelan, Washington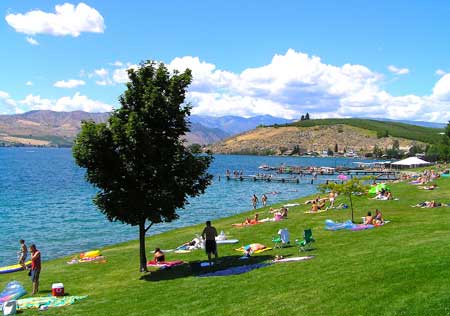 Averaging an impressive 300 days of sun each year, Chelan makes for an ideal summer getaway for those Pacific Northwest residents who spend far too much time in the fog. While swimming, paddle boarding, and boating in Lake Chelan are must-dos while visiting Chelan, this charming small town also happens to be the perfect starting point for day trips consisting of wine tasting through the local wine region, parasailing, zip-lining, and even skydiving.
Elkhart Lake, Wisconsin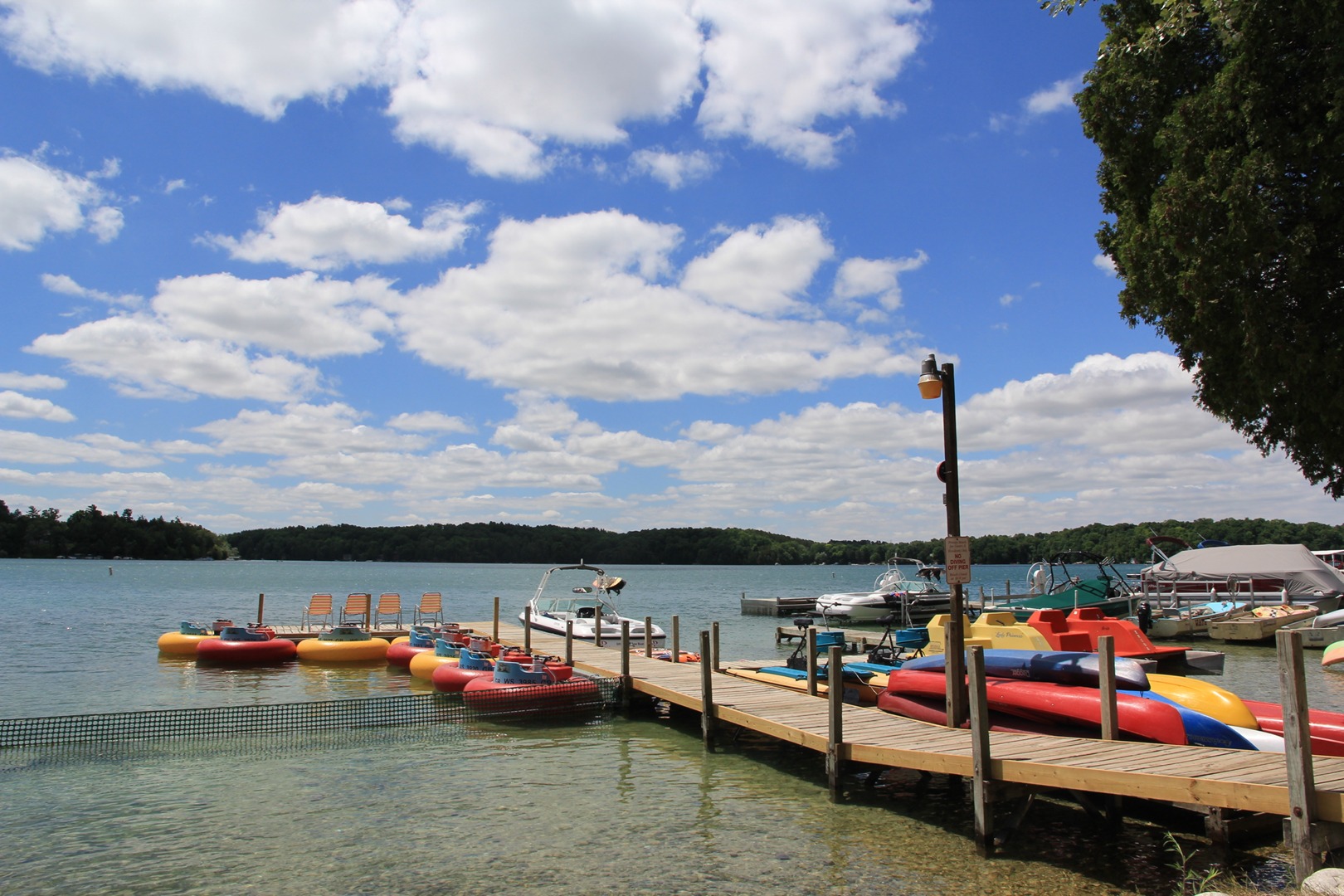 Wisconsin's Elkhart Lake has been the go-to summer destination for generations of Midwestern families. Rent a room at one of the many family-owned resorts located right on the water, then spend your days swimming, boating, kayaking, or jet skiing over the crystal clear waters. The town of Elkhart Lake offers a ton of fun family-friendly activities, including live music venues, a miniature golf course, wine and cheese tastings, and much, much more.
Elmore, Vermont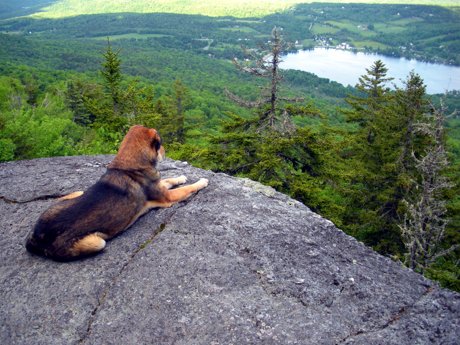 Elmore, Vermont is about as far away from the exhaustion of a day-to-day work routine as you can get. Book a room at Stowe Meadows or one of the many other locally run B&Bs, then spend your days enjoying all that Lake Elmore has to offer. If lazing on the beach for your entire vacation doesn't sound adventurous enough, spend some time over at Elmore State Park and take a hike along the scenic Mountain Brook Natural Trail.
Grand Lake, Colorado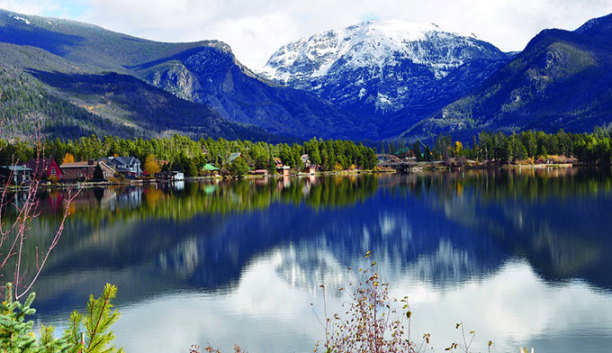 A lake town and a mountain escape all in one? That's Grand Lake, Colorado! Nestled alongside not one, but two lakes — Grand Lake and Shadow Mountain Lake — this charming small town has a beautiful view to offer no matter which way you look. While there's plenty to do in and around the lakes themselves, Grand Lake also happens to be located less than one mile from an entrance to Rocky Mountain National Park, where hiking adventures can add a whole new element to your summer lake vacation.
Grand Marais, Minnesota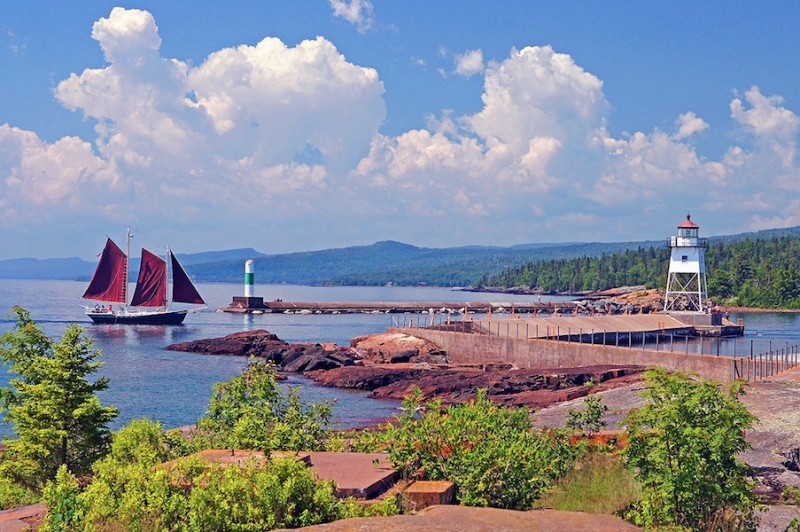 Located between the Sawtooth Mountains and Lake Superior, Grand Marais, Minnesota is a charming lakefront arts town with a tiny population and a ton to offer the summertime guest. As you're relaxing by the lake, or even as you're speeding by the shore in your boat, you'll likely see artists hard at work preparing pieces that will soon be for sale in a local gallery. Perhaps one of the most unique things about spending some of your summer in Grand Marais is the show of the Northern Lights that reflects off the lake nearly every evening.
Greenville, Maine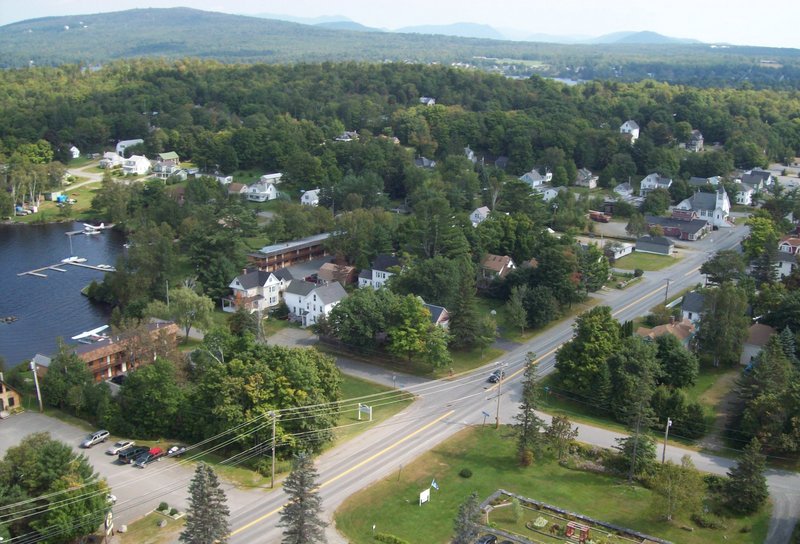 The charming small lakefront town of Greenville, Maine has a solid reputation as a place for relaxation. Situated along the shores of Moosehead Lake, Greenville is a peaceful enclave with a small human population, but plenty of moose and other wildlife. In fact, moose are often spotted wandering across roads and beaches. Moosehead Lake offers the summertime visitor a ton of potential fun, including boating through hidden coves, exploring small islands, fishing, canoeing, and swimming.
Lake George, New York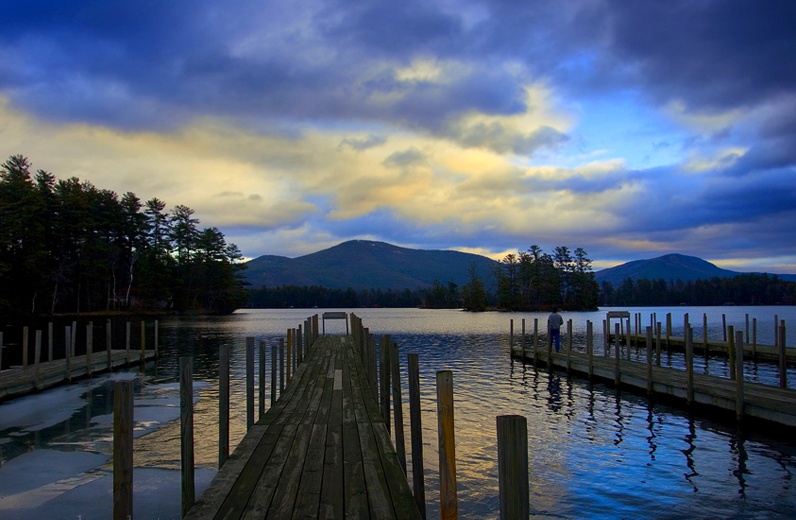 As evidenced by the slew of impressive 19th-century estates lining the lake, wealthy New Yorkers have been spending their summers in Lake George for generations. Though Lake George boasts all of the typical lake activities — swimming, boating, etc. — the town offers the summertime visitor plenty more to do. Nearby Shelving Rock Falls offers a variety of picturesque hikes, while the surrounding area is becoming better and better known as one of the East Coast's premiere wine-making regions.
Lake Placid, New York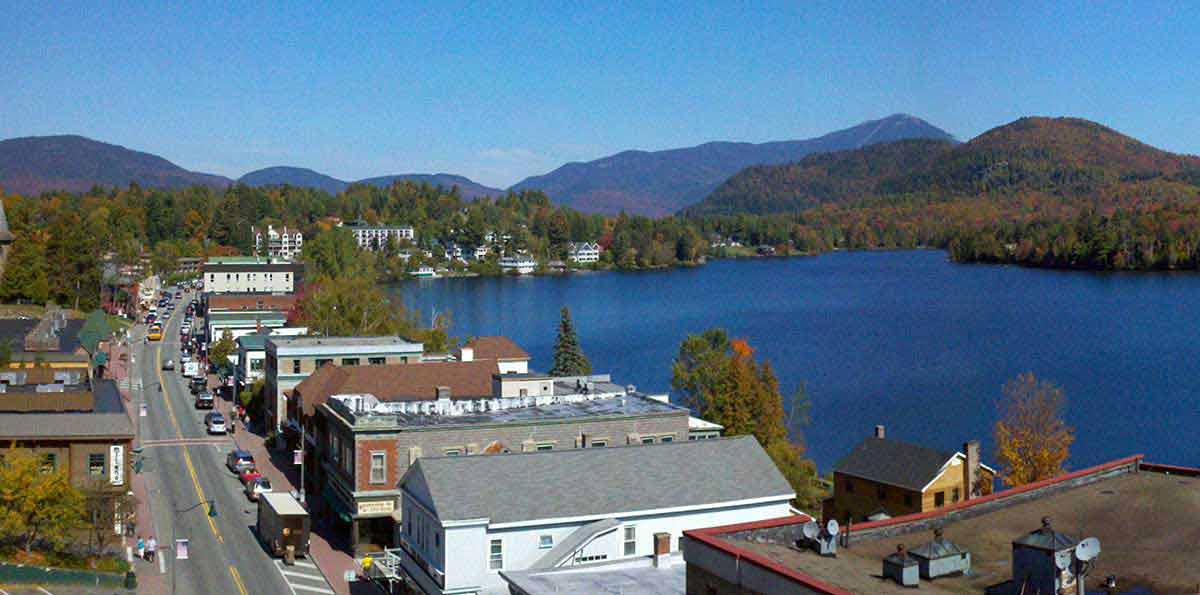 Located in upstate New York, the lakefront town of Lake Placid is perhaps best known for hosting the Olympic Games not once, but twice. Because summertime temperatures average among the mid-70s, Lake Placid is a popular go-to for Manhattanites looking to escape the hot concrete jungle. The potential for summer fun in Lake Placid is practically endless, as swimming in Lake Mirror, hiking the Adirondacks, or taking part in one of the many summer festivals are all popular pastimes.
Lakeland, Florida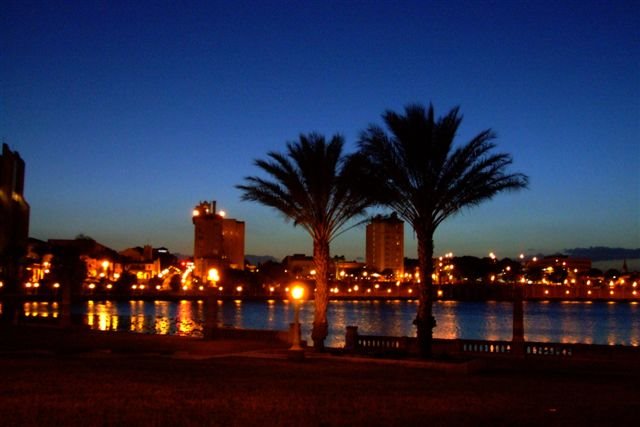 Florida may be best known for its oceanfront beaches, but as it turns out, it has one of the best lakefront towns, too. The "Old Florida" town of Lakeland is all kinds of charming. While the lake usually takes up most people's attention, other potential Lakeland activities include touring the official Frank Lloyd Wright Visitors Center, awing over old airplanes at the Fantasy of Flight exhibit, or catching a flick at the 1928 vaudeville movie palace.
Mackinac Island, Michigan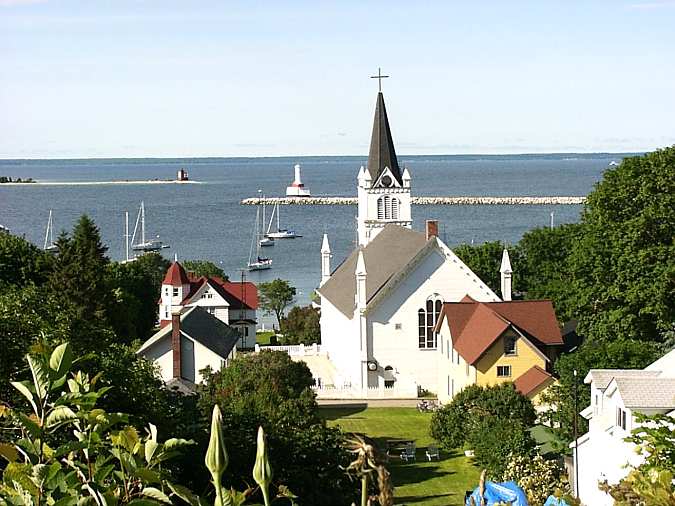 There is something absolutely magical about the small lake town of Mackinac Island. Located in northern Michigan, Mackinac has banned all cars from entering the island. That means bicycles and horse-drawn carriages are the most common modes of transportation. Speaking of bikes, you'll want to rent one. The eight-mile bike path that circumnavigates the island leads past impressive lakefront estates, secluded beaches, and even an old fur trappers' fort. Back in town, spend some time wandering in this charming lake town that feels like its stopped in time.
Mammoth Lakes, California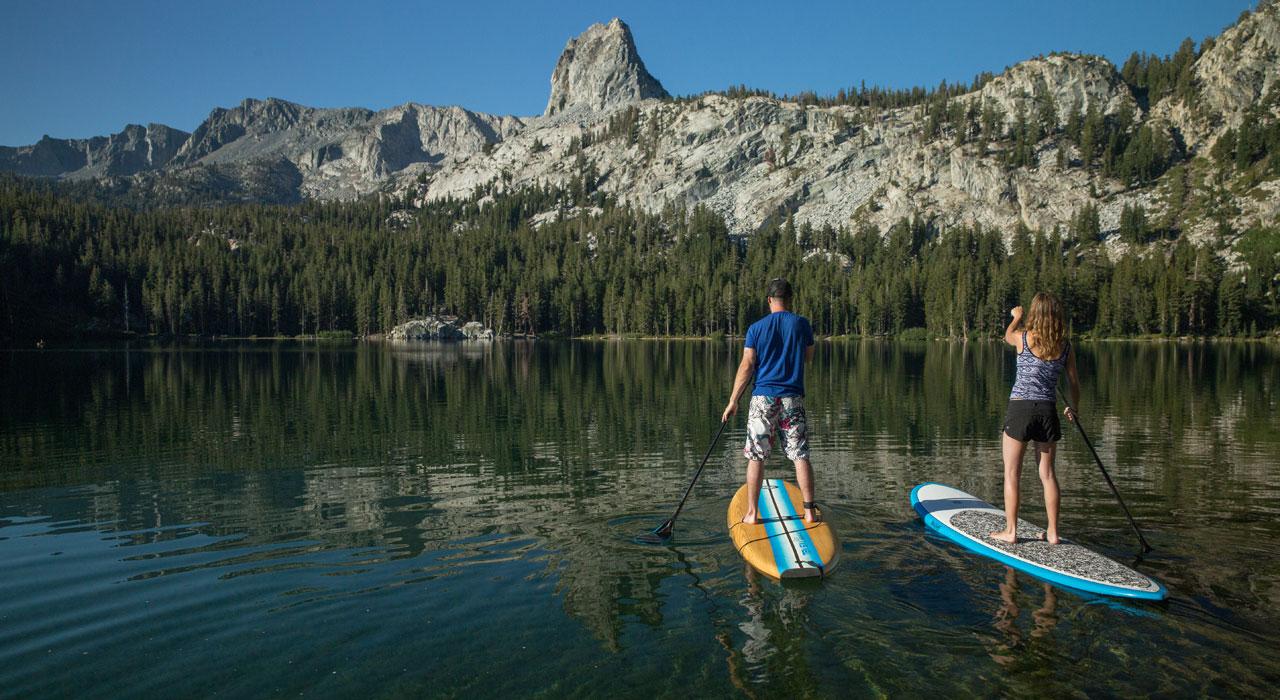 Located an easy five-hour drive from the greater Los Angeles area, Mammoth Lakes is a popular getaway destination in both winter and summer. During the warmer month, this lake front town boasts lots of opportunities for water fun in the area's myriad lakes. Hiking and cycling trails are also plentiful, as are top-notch restaurants and breweries like the Mammoth Brewing Company.
Newport, New Hampshire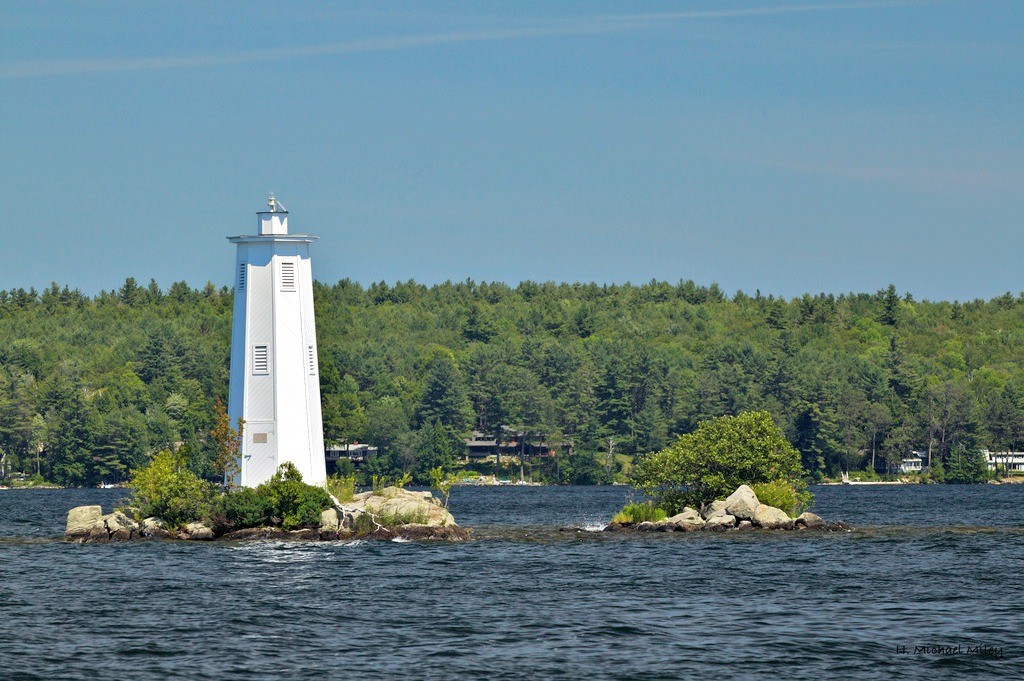 When you think of the quintessential lake town, you probably think of a place like Newport, New Hampshire. Situated along the shores of Sunapee Lake, Newport offers visitors a number of beaches idea for swimming and sunbathing. A lakefront outdoor concert series entertains visitors throughout the summer, as do the many fun shops, restaurants, and ice cream parlors lining the boardwalk. Though no one would blame you if you chose to spend your entire Newport vacation on the water, there are also some excellent day trip opportunities a convenient drive from Newport. These include nearby Fells Historic Estate & Gardens, a stunning 84-acre estate.
Okoboji, Iowa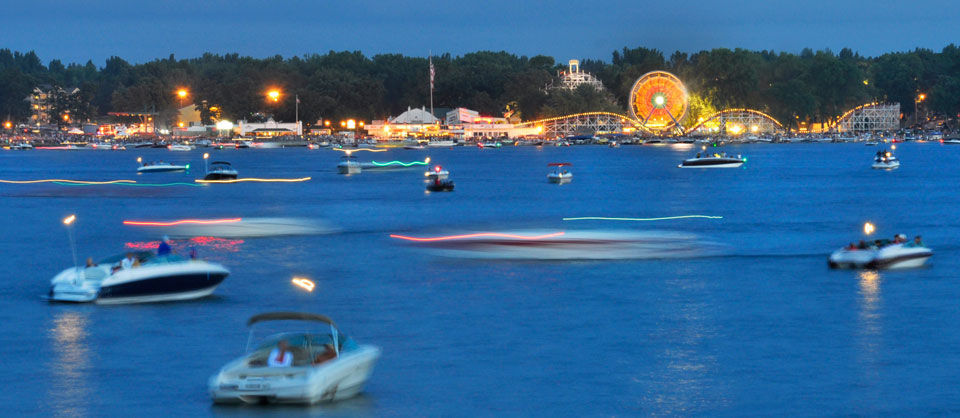 Okoboji is the epitome of charming lake town! Located along the shores of West Okoboji Lake, this lakefront town is a popular destination for those who enjoy hiking, hunting, and fishing in some of the prettiest natural surroundings in the Midwest. West Okoboji Lake is ideal for sailing, swimming, wakeboarding, or just sunbathing on the beach. Younger visitors will even love the lakeside amusement park. If you're planning to take a summer vacation to Okoboji, try to plan your trip over the Fourth of July to enjoy the town's legendary fireworks display.
Put-in-Bay, Ohio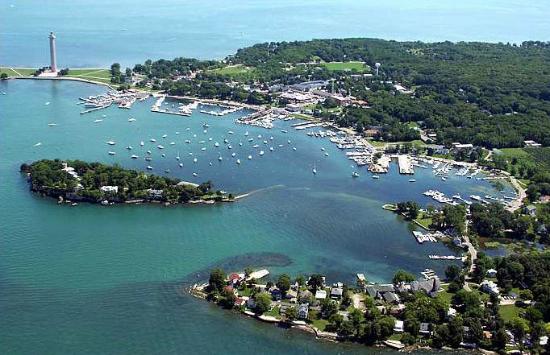 This tiny town has fewer than 200 full-time residents, though that number increases dramatically come summertime. Put-in-Bay is actually located on South Bass Island in the middle of Lake Erie. It's home to a slew of lakefront bars and restaurants, including the largest swim-up bar in the entire world. When you're not boating or floating on Lake Erie, check out the hiking and cycling trails at South Bass Island State Park, or check out the impressive Perry's Victory and International peace Memorial, the fourth tallest monument in the nation.
Rangeley, Maine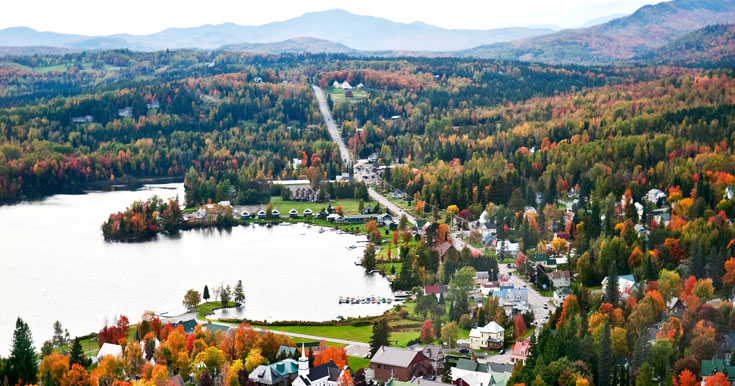 Maine has dozens of charming small lake towns, but Rangeley happens to be one of the very best. Downtown Rangeley is lined with antique shops, quaint B&Bs, and locally owned bars and restaurants. Rangeley Lake is ideal for boating or even canoeing, while nearby Saddleback Mountain has lots of great hiking trails from which to enjoy all of the beautiful natural scenery this Maine town has to offer. Uniquely, Rangeley is also conveniently located near the Maine Mountain Maple Plantation, a perfect day trip destination and a place to taste freshly tapped maple syrup.
Rock Springs, Wyoming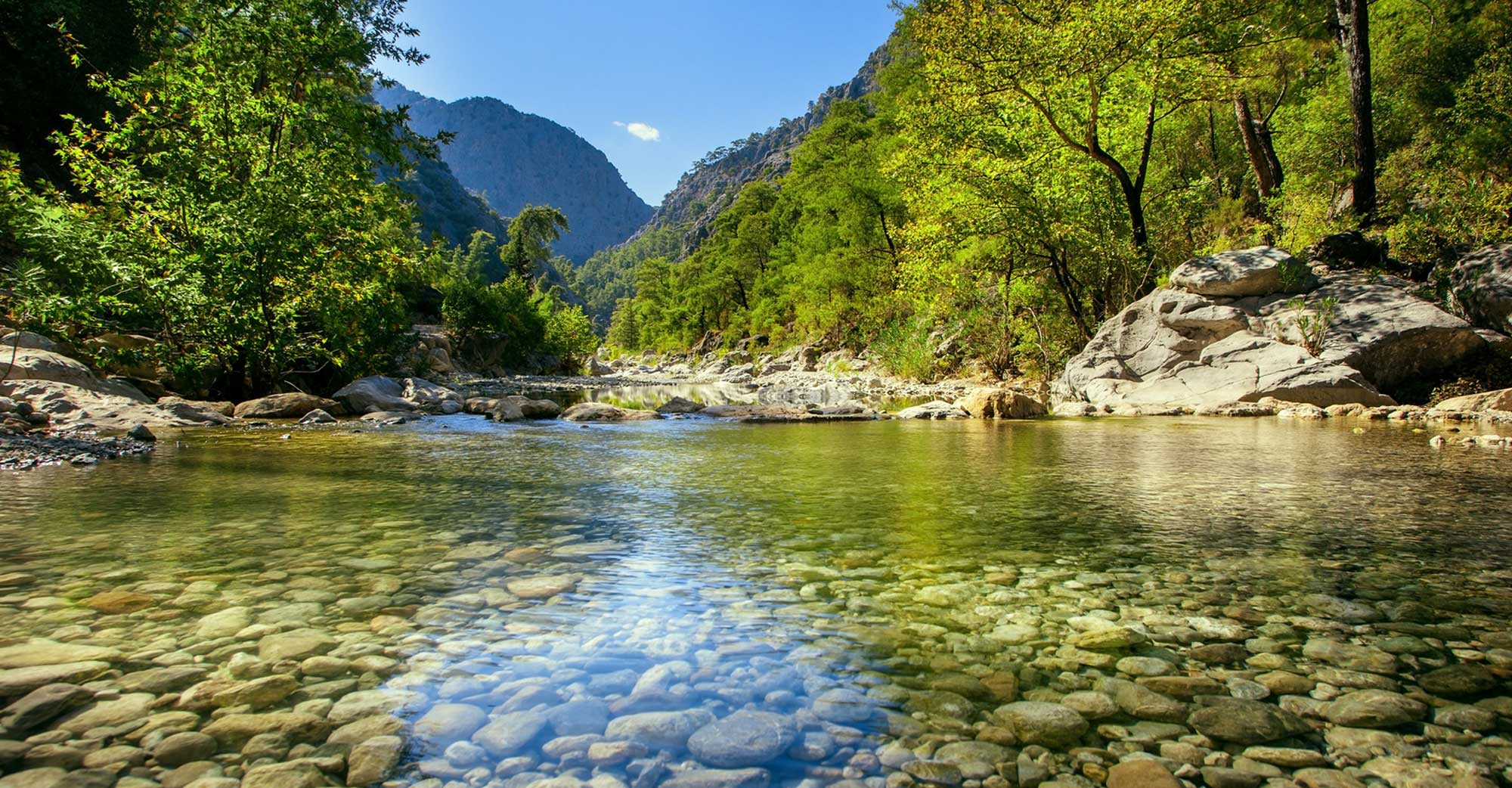 Jackson Hole and Grand Teton may get all the attention, but Rock Springs, Wyoming is the town that makes our list of the best small lake towns in America. Rock Springs is situated alongside Flaming Gorge Reservoir, widely thought to be one of the best places in the country for cold-water fishing. Of course, fishing isn't all there is to enjoy in Rock Springs. Swimming, water skiing, tubing, and kayaking are also popular destinations.
Sackets Harbor, New York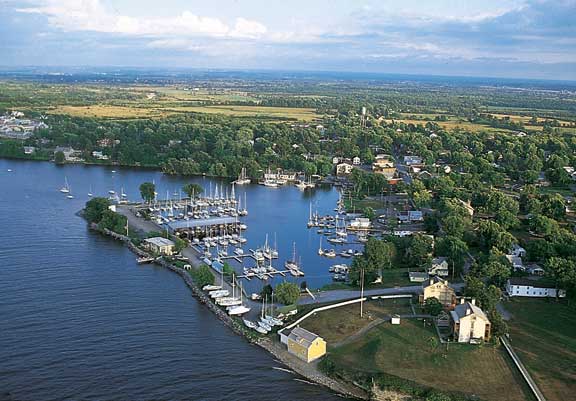 No matter what you're looking for in a small lake town, Sackets Harbor has it. The site of a bloody battle during the War of 1812, Sackets Harbor today is a quaint and laid-back lakefront town. Sackets Harbor boasts myriad green space, a yacht club, antique shops, lakeside restaurants, and tons of hiking trails. The town's Lake Ontario is ideal for swimming and boating.
Sandpoint, Idaho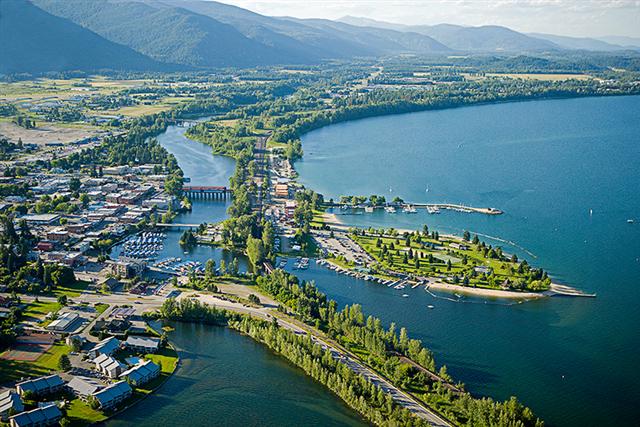 Coeur d'Alene is the most famous lakefront town in Idaho, but if you ask us, Sandpoint is even better. This small lake town boasts a seemingly endless list of things to do and see. Nearby mountain ranges like the Bitterroot, Cabinet, and Selkirk have a slew of hiking and biking trails to enjoy, while Lake Pend Oreille on which Sandpoint sits is a postcard-perfect waterway ideal for kayaking, paddleboarding, and swimming. There's even a local ferry to provide a totally unique experience.
Sandusky, Ohio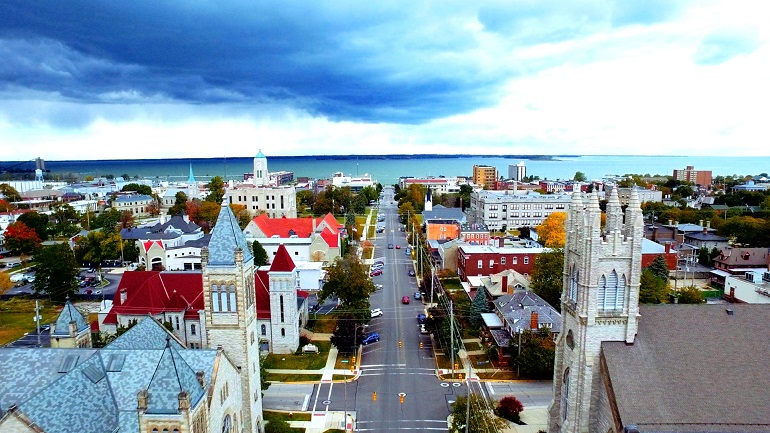 Though it's most famous as the home of Cedar Point theme park, Sandusky also happens to be a charming lakefront town located on the shores of Lake Erie. Sandusky's pedestrian-friendly downtown is lined with locally owned shops, boutiques, restaurants, and bars. There are even a collection of old lampposts, from which American flags have been hung. The waterfront Bayfront Pedestrian Pathway offers pretty views of the lake and leads visitors past a series of interesting historic markers like the ones identifying the many sites associated with the Underground Railroad.
Saugatuck, Michigan

Those families who have been visiting Saugatuck, Michigan for years can attest to the fact that this charming lakefront town has hardly changed in the past few decades. Saugatuck is well known for its long stretches of beach, a perfect place to sunbathe or play in the sand. The lake itself is great for swimming, while the town is perfect for wandering. Be sure to spend some time downtown, where locally owned shops and restaurants line the main streets.
Seneca, South Carolina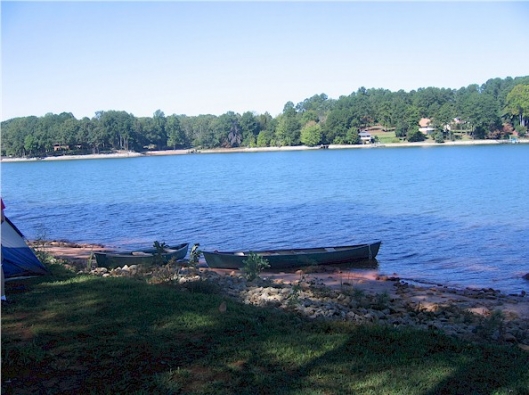 Lake Keowee, Seneca, South Carolina's main centerpiece, may be man-made, but that doesn't mean this charming lakefront town is anything but. The 29-mile lake is huge, boasting a whopping 350 miles total of shoreline. Much of that is undeveloped, meaning it's ideal for picnicking, swimming, sunbathing, and anything else you might associate with the perfect beach day. On the lake itself, people are often swimming, jet skiing, rafting, and boating.
South Lake Tahoe, CalNeva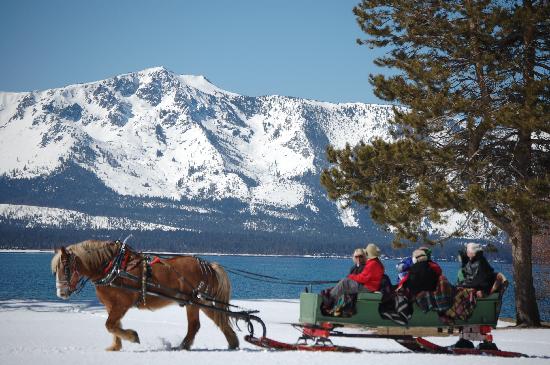 Half of Lake Tahoe calls Nevada home, while the other half calls California home. This beautiful lakefront getaway has lots to offer during the summer. Skiing, boating, camping, jet skiing, miniature golfing, and sunbathing are all popular Lake Tahoe pastimes, though the local casinos also offer their own variety of fun.
Sturgeon Bay, Wisconsin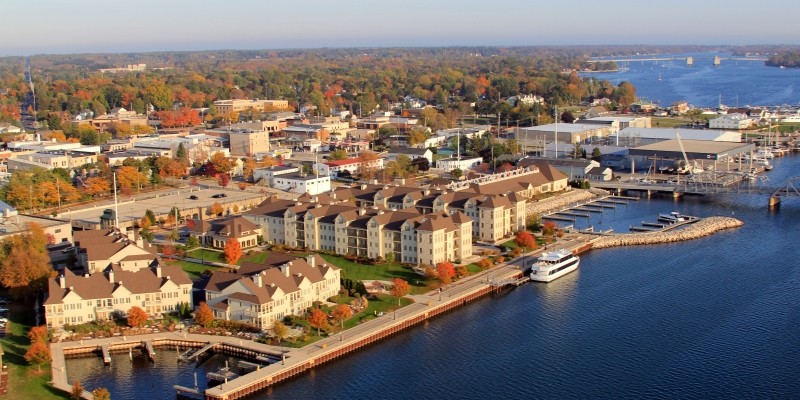 Located not too far from Green Bay, Sturgeon Bay is a charming lakefront town situated alongside Lake Michigan. A close-knit community, Sturgeon Bay is mighty proud of its long maritime history. Even today, one of the town's main industries is boat building. The town feels uniquely Scandinavian, the result of a long heritage that extends all the way back to its founding. Four nearby state parks offer plenty of hiking opportunities, while kayaking through the local limestone coves make for an especially popular pastime for locals and visitors alike.
Tahoe City, California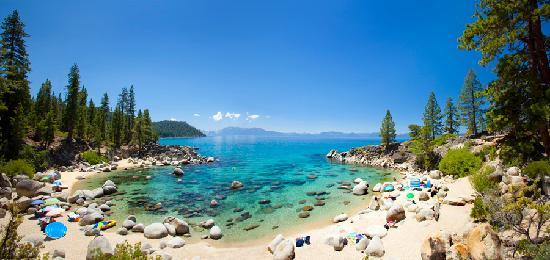 Located on the opposite side of the lake from aforementioned South Lake Tahoe, Tahoe City is one of the most charming communities to be found alongside Lake Tahoe. During the summer months, everything revolves around the lake. Book your lakefront camping spot early, as these places can sell out seasons in advance. Though the lake can get a bit chilly, it's worth it for the prime swimming, kayaking, and boating opportunities.
Traverse City, Michigan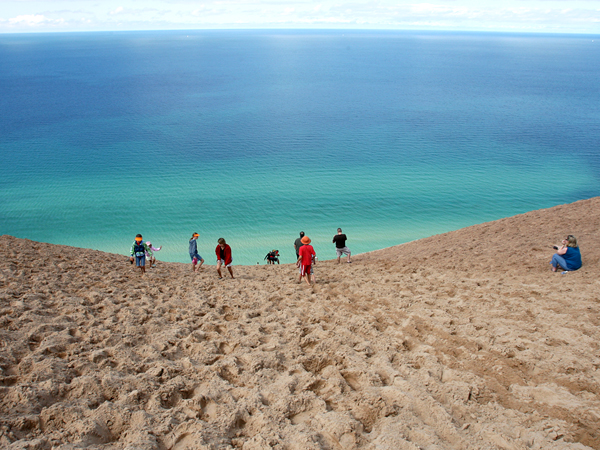 Traverse City sits on Grand Traverse Bay, an inlet of Lake Michigan. This charming small lakefront town has become a popular summer getaway in recent years. Sleeping Bear Dunes National Lakeshore, Traverse City's best known beach, is famous for its 450-foot sand dunes. Make the challenging climb and you'll be rewarded with stunning lake views — plus a fun slide back down the dune. Don't leave town without doing some wine and cherry tasting in Traverse City's surrounding countryside.
Wasilla, Alaska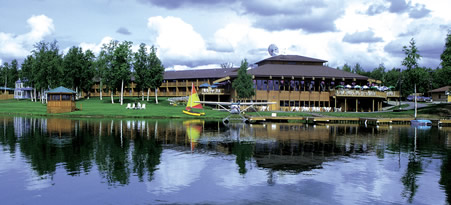 You may not think of Alaska as being home to a charming lakefront town, but Wasilla is an exception. If you're looking to relax, book your stay at one of the many lakefront hotels, many of which offer spa services and even access to things like boat rentals and float planes. Nearby Independence Mine State Historical Park offers some great hiking trails, while a number of local companies offer unique experiences like helicopter tours of nearby glaciers.
Wolfeboro, New Hampshire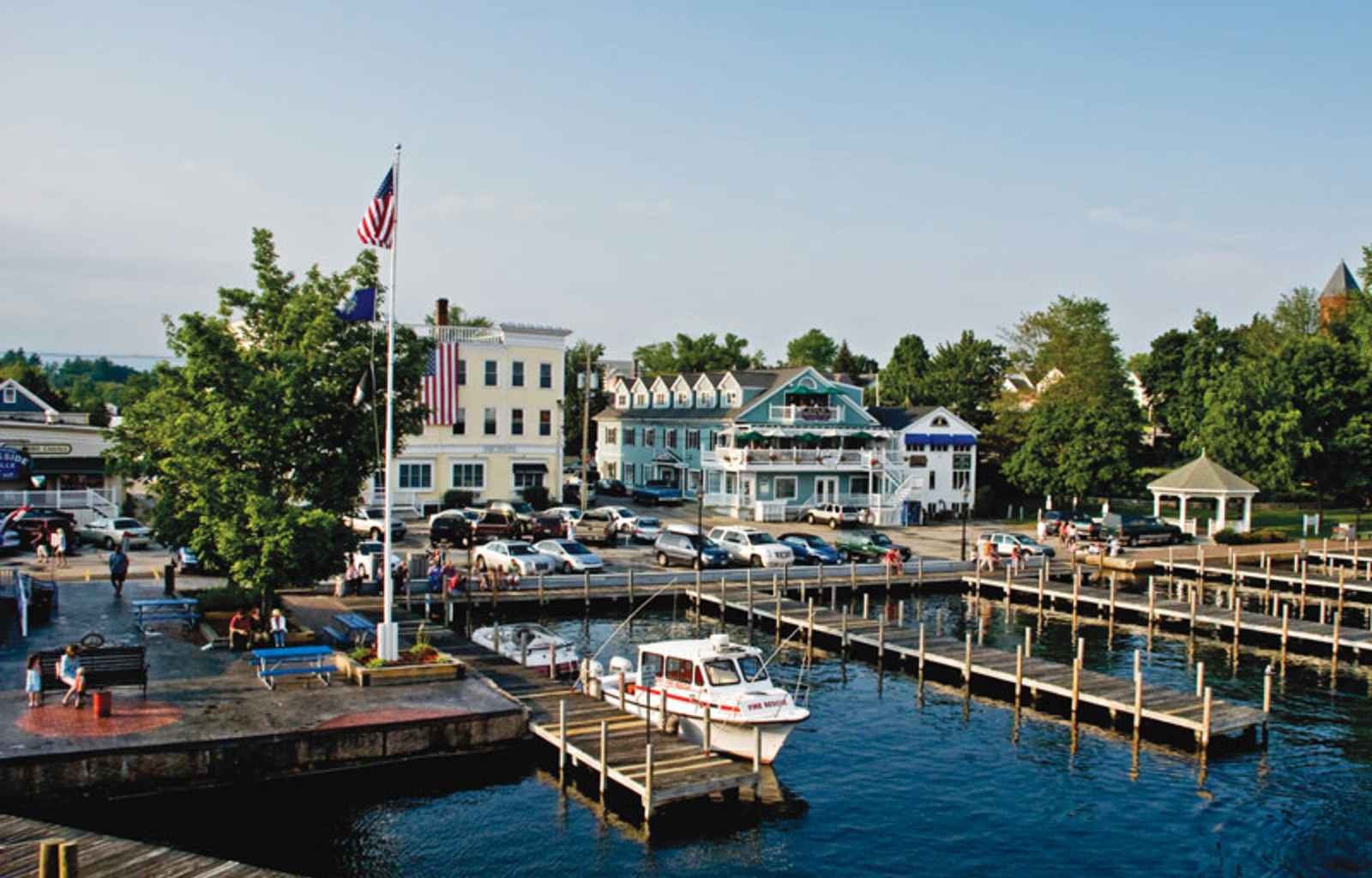 The adorable town of Wolfeboro is nestled alongside Lake Winnipesaukee, the largest lake in New Hampshire's stunning Lakes Region. Wolfeboro has been called the "Oldest Summer Resort in America," and as such the town boasts dozens of antique shops, old-style country stores, and charming B&Bs such as the Wolfeboro Inn with its white picket fences. The lake itself is dotted with pontoon boats and cruisers, though even those boat-less folks find plenty to do in the sand and water. Families have been summering in Wolfeboro for generations, and even stars like Drew Barrymore and Jimmy Fallon are regulars. In fact, Jimmy even named his daughter Winnie after the beautiful lake.