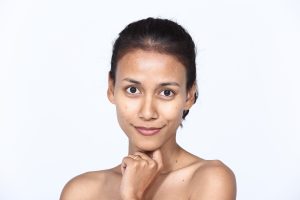 It's that time of the year when our skin just can't quite figure out what's going on. At the start of your week it's warm and sunny – your face is soaking up all that vitamin D. The sun makes you feel rejuvenated, youthful, and is actually providing you with physical benefits such as clearing acne. Then Wednesday rolls around and it's freezing again, your skin couldn't possibly absorb any more moisturizer, and your lips actually hurt to touch. By Friday it's pouring rain, your makeup is running down your cheeks, and your acne is here to stay. This time of year is far from easy on our skin.
The key to perfect, acne and blemish free skin is consistency and health awareness. Eat well, wash your face every night, frequently change your pillow case, get plenty of vitamin D, then repeat. It's hard to naturally find the right balance between all of these necessities, let alone  actually add all of them to your daily routine. It's okay to seek some extra help. Light therapy is that helping hand that anyone struggling with acne needs!
What Is Light Therapy?
Light Therapy is the process of using different forms of light to help reduce and/or treat a wide array of conditions and disorders. Dermatologists have been using light therapy on their patients for awhile now. And now, thanks to the convenience of new light therapy products, you can also use the treatment at home. During these tough winter months, light therapy can save your skin. It's easy to use, harm-free, cost effective, and will keep your skin feeling and looking healthy and youthful! Light therapy has been taking down acne one pimply face at a time and showing winter who's boss.
Light Therapy & Acne:
We all deal with them, those not so pretty blemishes on our cheeks, our noses, our foreheads, our backs, and other unfortunate places. Acne is a skin condition that occurs when hair follies plug with oil and dead skin cells. The bothersome condition results in pimples, blackheads, and bumps. It's honestly a pretty difficult condition to conquer. Some people can lay off the greasy potato chips, change their pillow cases every single morning, and still end up with zits on their foreheads. Some people can apply all of the expensive creams in the world, try every homeopathic treatment, read every Pinterest article about how to get rid of their zits, and they will still struggle. Some people deal with terrible side effects with acne medications, or they just can't afford to keep getting it refilled! This is where light therapy can kick acne right out of your life.
Exposing your skin to different forms of light therapy can help kill the bacteria in and on your skin that causes redness and swelling from acne. Using a form of Light Therapy will not be a quick kill for your zits. It will not just zap them away like a laser does. Instead, the treatment kills the bacteria that causes acne and reduces the amount of oil-producing glands on your skin. This gives your skin a chance to recover by itself, without harming or damaging it for the long run. Depending on what is needed and wanted, the treatment will either be using red light, blue light, or a combination of the two.
What We've Learned From The Sun:
If you've ever gone on vacation somewhere sunny and warm, or you spend a lot of time outdoors in the summer, you'll notice the effect the sun has on your skin. Not only are you nice and naturally tan, but it can treat acne and reduce the blemishes on your skin. The red and blue wavelengths of sunlight are what really do the trick. They're not always visible, and let's face it, not all of us are lucky enough to live in paradise! We can't all get natural acne treatments sitting on the beach every day! Sometimes we need a little help. For long term benefits, and for most of us who have to deal with seasonal changes, Light Therapy really does the trick. Light Therapy helps mimic the sun, but actually does a better job due to the fact that you can target the exact light that you want. Meaning you can choose red light, blue light, or both!
Red Light vs. Blue Light:
Red light and blue light each have different effects on the skin, both providing lots of benefits. Even more so when they're combined!
Facing Acne, a website dedicated to helping people get the clear skin they desire, has a wonderful article explaining light therapy and its effects on acne. The article summarizes the differences between red light and blue light. The website explains,
"Red light reaches deep into the skin and activates hemoglobin. Red light treatment cuts off just enough of the blood supply of oil-producing sebaceous glands that pores don't get quite as oily. Blue light penetrates pores and kills acne bacteria—but not all the pore's acne bacteria. There are always some acne bacteria in the sebaceous gland that can't be reached by blue light." (FacingAcne.com)
"There are specific wavelengths of visible light that kill acne bacteria. Visible blue light from the sun (in the frequency range of approximately 415 nm) that shines into pores can activate light-sensitive chemicals called porphyrins that are found in the outer cell membranes of the bacteria that cause acne. When these chemicals begin to vibrate in sync with solar energy, they rupture the outer lining of the bacterium. The contents of the bacterial cell begin to leak out, and the bacterium dies within 48 hours.
"Visible red light from the sun has a complementary benefit in treating acne. Solar rays in the frequency range of approximately 650 nanometers reach deeper into the skin, down to the level of the sebocytes that produce the oil that sometimes clogs pores.
"The red rays of the sun are absorbed by red compounds in the skin. They primarily heat up hemoglobin. Ordinary light shining on the surface of the skin, however, only reaches to the depth of the oil glands, and does not cauterize the blood vessels in the skin. The effects of red light on oil-producing glands are temporary, and they begin producing large amounts of oil again a week or two after treatment." (FacingAcne.com)
Don't Forget…
It is also important to note that drying out your skin is very easy to do. And dry skin does not mean healthy skin. So when it comes to light therapy, more treatment does not mean better results. Drying or burning your skin by keeping your face too close to your lamp or wand does not improve your skin. Also, using light therapy as your only form of skin treatment will not fix your problems. Light Therapy should always be combined with other methods for the best results. For example, be sure to keep your skin clean, watch what you eat, properly moisturize, change your sheets and pillowcases when necessary, etc.
Are You Sold?
Light Therapy started becoming popular as a way to treat and cure acne when highly intense medicines such as Accutane and Retin-A were given a whole slew of restrictions from the government. Due to the lack of negative effects that Light Therapy has on the body, dermatologists hopped right on board, no longer being afraid of putting their patient's health on the line. Now instead of prescribing medications or acne, you can now receive in office treatments from your dermatologist. But don't forget, you can treat yourself at home as well. Blue light and red light therapy devices to use at home or while you're at a spa have become extremely popular and easy to find.
There are lower cost options such as handheld led lamps for your face or other problem areas. These help heat the oil under your pores so that blackheads can pop out. But there are also higher end devices that have proven to be much more effect. You will not see instant results from any product that you purchase or use at a spa, but being consistent and knowing what you're doing will go a long way.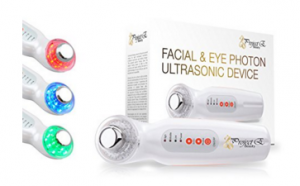 Project E Beauty LED Colors Photo Rejuvenation Kit – Facial Beauty Care Massager
Amazon for $54.99
The LED Light Therapy Skin System for Beautiful Skin uses multiple forms of light therapy to target skin conditions.  This device is at a slightly higher price point, but you get more for your buck. This skin care package includes three detachable light heads which can be changed according to what your skin requires. The device is hand held, cordless when in use and charges with the included cord. The device is designed to give you a 30 minute treatment per charge and has a built in timer to let you know when your treatments, which are typically 10 minutes long, are finished. The LED Light Therapy Skin Care System has wonderful reviews for treating acne. It can also tighten the skin on your face and body and reduce fine lines and wrinkles.
Don't let the winter months control the health of your skin! Your skin is craving light therapy. It's time to jump on board!