What Is Jetlag?
Jet lag, also referred to as desynchronosis or flight fatigue, is a major downside to traveling. When flying to a location with a time zone difference of 3 hours or more, passengers often find themselves feeling all sorts of weird once they land. They're tired, irritable, confused, and often have trouble sleeping.
Jet lag occurs because our circadian rhythms, or biological clocks, are easily disturbed. Circadian rhythm is our body's internal clock which controls the amount of melatonin and serotonin our brains release. Our circadian rhythm relies on the amount of light our brain senses each day as well as the timing of that light. When taking a long flight to the other side of the country at 12 o'clock in the afternoon, passengers could awake from their plane nap at 10 o'clock at night. Then they're left wired and all out of sorts. Our bodies don't understand what time it is, our brain isnwide awake, and there is usually only a slim chance of falling asleep. This is why jet lag occurs. Once our circadian rhythm is disturbed, it's hard to get back on track.
Aside from feeling fatigue and suffering from insomnia, there are some other physical and emotional symptoms that passengers often face. These include…
Anxiety
Constipation
Dehydration
Confusion
Diarrhea
Headaches
Nausea
Irritability
Difficulty with concentrating
Indigestion issues
Sweating
Dizziness
Problems with coordination
Sleepiness during the day
The feeling of malaise
Memory loss
Heartbeat irregularities
Weak immune system
Anyone can suffer from jet lag – adults, children, babies. While it is not common to need to seek medical attention for jet lag symptoms, the symptoms can leave you out of commission. The recovery process from jet lag depends on the number of time zones crossed during traveling. Typically, passengers tend to recover from jet lag at a rate of one or two time zones per day. To put this into perspective – if you travel through 8 time zones, your body will typically need  5 to 7 days to recover.
The Neuroon Mask…
Traveling is supposed to be fun but it's hard to have fun when suffering from jet lag. This is where the Neuroon Mask saves the day! A Polish start up company designed the groundbreaking sleep mask with travelers in mind. The mask is meant to shift your body's internal clock in preparation for long trips.
How It Works…
The Neuroon Mask works by exposing the person wearing the mask to short bursts of light while they are asleep. The company claims that the mask helps reduce the effects of jet lag after traveling to a destination with a time difference of 3 hours or more.
The company decided to create the mask after research from Stanford University in California found that levels of melatonin, a sleep hormone, were greatly altered when patients were exposed to short flashes of light during their sleep. The researchers found that this discovery could be used to alter a person's sleep schedule and keep their circadian rhythm, or biological clock, in check.
There are biometric sensors built into the Neuroon Mask that can measure the wearer's heart rate and brainwaves. This records their sleep analytics, sleep architecture, phases of deep/light sleep, REM, and waking. All of these recordings can then be viewed on a smartphone application created specifically for the mask.
Jetlag Blocker…
Perhaps the most interesting and innovative part of the Neuron Mask is it's "Jetlag Blocker" feature. You can actually enter your destination and the mask will adjust it's settings and light therapy process to prepare your body's internal clock for it's new time zone location. The company recommends starting the light therapy process a few days before traveling. This will increase the chances of beating jet lag.
Why It's So Important…
Most people brush things such as jet lag aside. They just assume it's bound to happen. In this case, they either take sleeping medicines, get sick from exhaustion, or just get used to their generally low moods while traveling. This is not the way it should be!
Making light spectrum therapy easy to use is the best way to continually introduce the therapy to the world.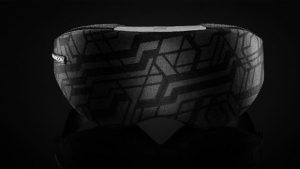 Neuroon Sleep Mask
Available for $299.00
Neuroon.com
The Neuron Sleep Mask is currently available on the company's website for a pretty fair price if you tend to put your health first. The price includes the Lucid Dreaming cellular app which works for both Android and IOS. Do you travel a lot for work or just love to take off? Is your body extremely sensitive to time zone changes? Are you ready to try the world's new innovative discovery? The Neuroon Mask is for you! Let us know how you like it.
Save