Light Therapy is all the rave right now. It's all natural, drug free, chemical free and harm free. It's being used to treat acne, rejuvenate skin, treat cancer, treat all different forms of depression, treat skin conditions, cure hair loss, and so much more! The biggest factor when it comes to any sort of medical treatment is convenience. If the treatment does not easily fit into your schedule, it's very common to not give it the chance it deserves. In order to get the best results for light therapy treatments, patients need to set a schedule for themselves and be sure to follow it. In order for this to happen, the treatment has to work with the patient's daily routine. Many people travel, right? Whether it's for work, pleasure, family, friends, etc. However, traveling quite frequently while also following a medical treatment plan can be difficult. This is why finding the right Light Therapy product is so important. If you're a traveler and looking to add Light Therapy to your lifestyle, this list is for you. We have created a list of the Top 5 Light Therapy Products For Travelers Under $100. Our list is succinct and accurate, helping you find the perfect product. These devices are easy to pack in your carry on, can be used just about anywhere, and they won't empty your wallet. You're welcome!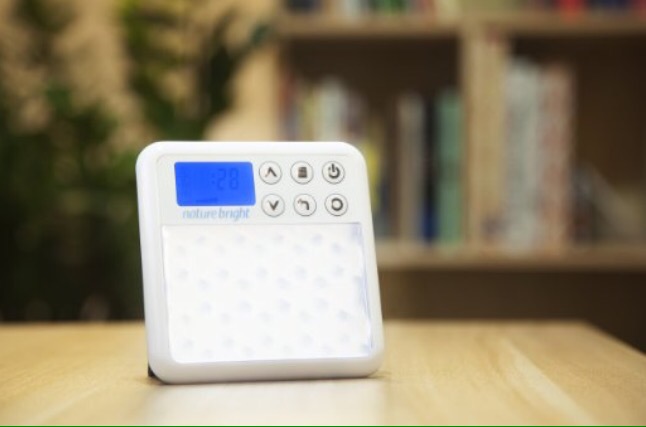 1.) Nature Bright Sun Bliss 2 in 1 Portable Light Therapy & Wake-Up Light
Amazon for $60.30
The Nature Bright Sun Bliss 2 in 1 Portable Light Therapy & Wake-Up Light is perfect for the traveler who needs a little help keeping their circadian rhythm in check. This light is made with a 10,000 lux bright light which is meant to mimic the sun no matter what time of day it is. It can be used as a simple light box that you spend some time in front of to raise your energy levels or you can use it as an alarm clock. Set the time you'd like to start waking up and the light will slowly start to turn on, mimicking the sunrise and keeping your mind's internal clock in check. The Nature Bright Sun Bliss Light is light weight and portable, weighing in at only 15.5 ounces and 1.2 inches in height.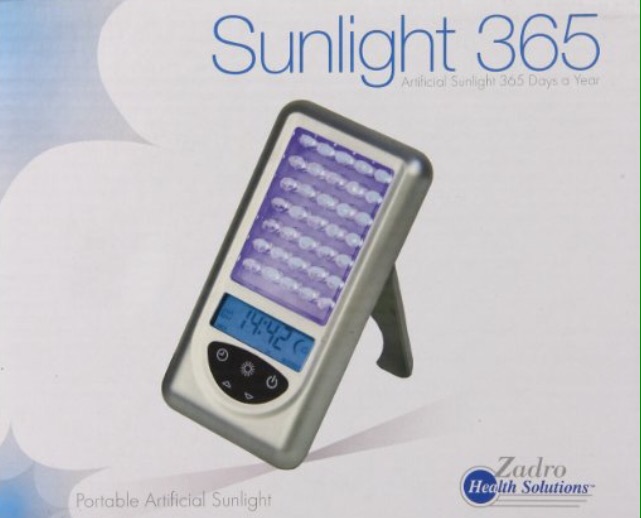 2.) Zadro Sunlight 365
Amazon for $34.95
The Zadro Sunlight 365 was specially designed for the winter blues traveler. This light consists of 35 blue LEDs and has 10,000 lux of light which is quite impressive considering the size. The light is adjustable from 0 to 100% and has a small panel on the front that shows the time and other optionable settings. This light is plastic, small, and portable, making it a necessary addition to your carry on bag.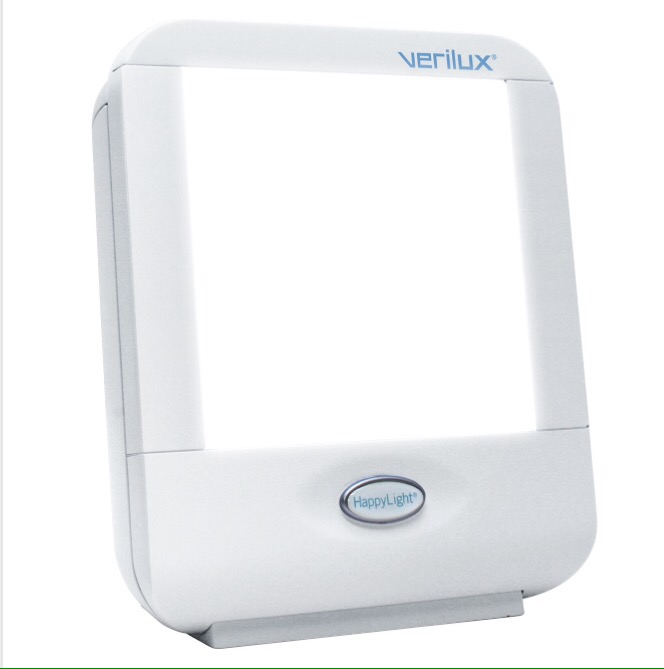 3.) Verilux Happy Light Liberty 5K Natural Spectrum Energy Lamp
Joann for $19.99
This lamp is on sale! You better add it to your cart quick! The Verilux Happy Light Liberty 5K Natural Spectrum Energy Lamp is only about 6″x7″x3″ which makes it perfect for your office, desk or hotel room. It's plastic and portable, making it easy to fit in your suitcase or briefcase. It emits 5000 lux which is ideal for mild to moderate cases of Seasonal Affective Disorder, depression, jet lag, shift changes, insomnia, and more. This lamp may be small but it sure is mighty.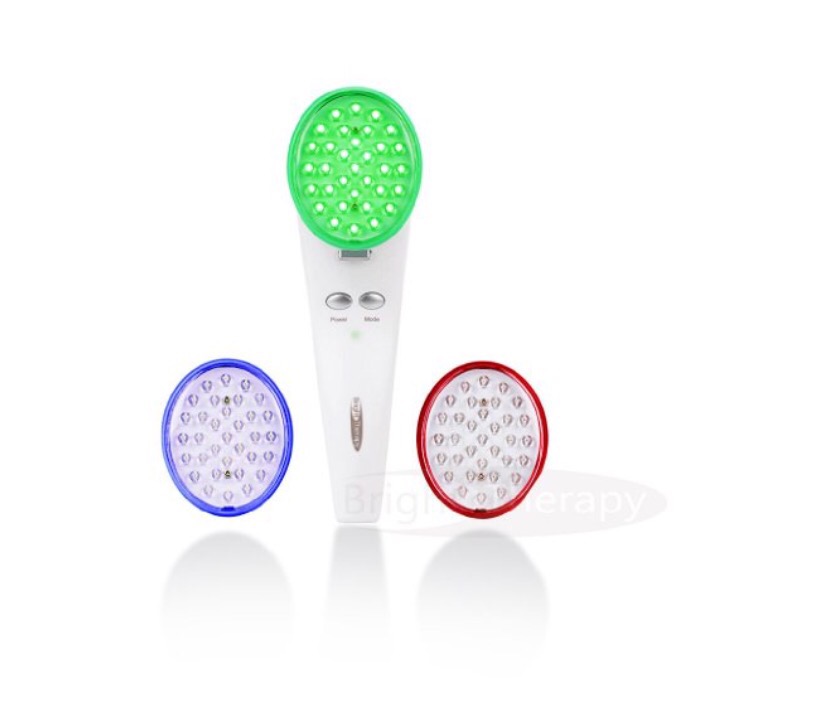 4.) LED Light Therapy Skin System For Beautiful Skin
Amazon for $99.99
The LED Light Therapy Skin System for Beautiful Skin uses multiple forms of light therapy to target skin conditions such as acne, wrinkles, scars, inflammation, psoriasis, Rosacea, and more. This skin care package includes three detachable light heads which can be changed according to what your skin requires. The device is hand held, cordless when in use and charges with the included cord. The device is aimed to give you a 30 minute treatment per charge and has a built in timer to let you know when your treatments are finished. Treatments are usually 10 minutes long. The device is only 5.6 ounces and 2 inches long, making it easy to continue your skin treatments while traveling. How often do you get to treat your acne on the go? This device makes it possible.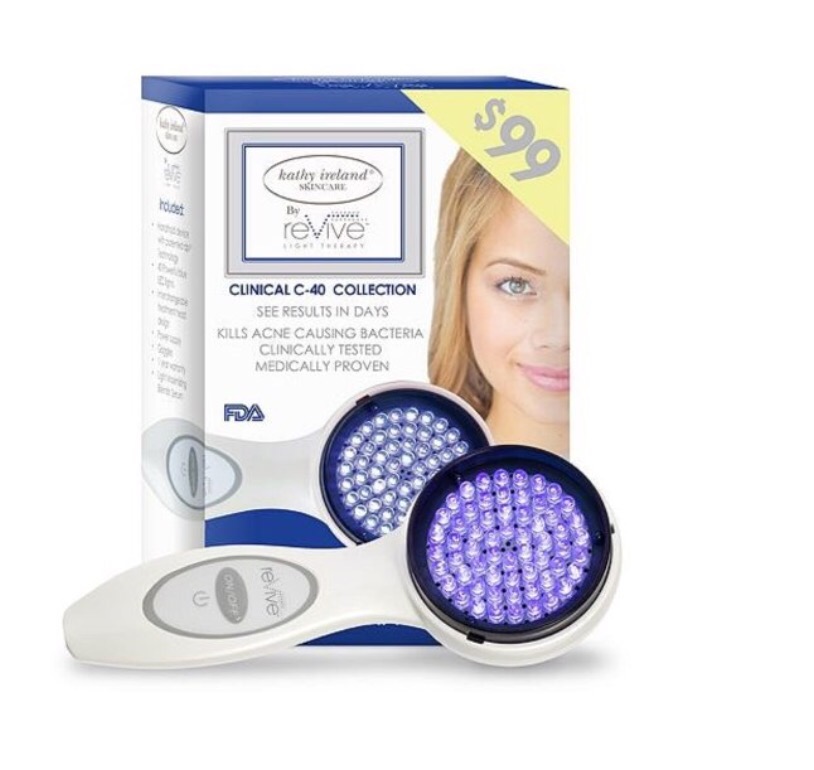 5.) ReVive Light Therapy Skin Treatment
Amazon for $79.95
The ReVive Light Therapy Skin Treatment is a handheld wand that penetrates deep into the skin to kill acne and the bacteria that causes it. The device is made for all skin types, even the sensitive ones! The light head consists of 40 LED blue light bulbs which makes this device a bang for the buck! The device should be used for a minimum of 3 minutes each day and used with goggles if the light is close to your eyes. The ReVive Light Therapy Skin Treatment device is small, portable, and will fit nicely in your toiletry bag while you travel. Continue your treatment on the go! It'll be worth it.