Blue light therapy is continually being proven effective in treating diverse conditions. The all mighty blue light is most known for treating cosmetic details such as acne, wrinkles scars, etc. But in recent years it has been treating cancer! Can you believe that? When combined with a specific solution, UV light has been proven to treat certain types of skin cancer. Blue light therapy is also used to treat mood disorders such as Seasonal Affective Disorder and Depression. Seasonal Affective Disorder is a form of depression that occurs during the fall and winter months when the seasonal changes tend to rule your brain. Blue light raises mood and energy levels and helps bring your mind back up to par. Blue light therapy treatments can be done at home in a doctor's office. While it is important to speak with your doctor before starting any sort of treatment, at home treatments are typically the most common route. In office doctor session can tend to get expensive. This is why we created this list for you! Here are the Top 10 Blue Light Therapy Products Under $100. Are you ready to start shopping?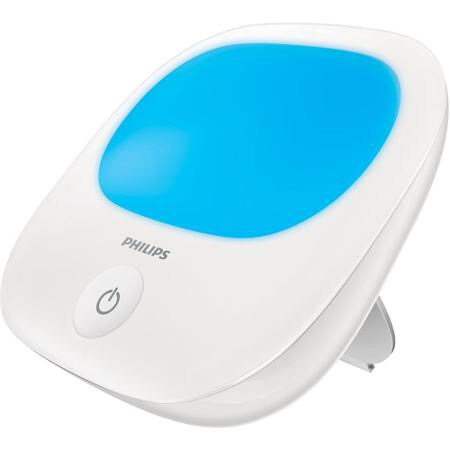 1.) Philips GoLITE BLU Energy Light
Walmart for $81.81
The Philips GoLITE BLU Energy Light was created to boost energy levels and increase the overall happiness of people that just need a little nudge. The blue light is meant to have the same effect on the brain as a clear blue sky during the day. It is also as effective as a 10,000 lux white light, for just a fraction of the price. There are three light settings, it's portable and it plugs into the wall. Just 20 to 30 minutes in front of this light and you'll be ready to conquer the world.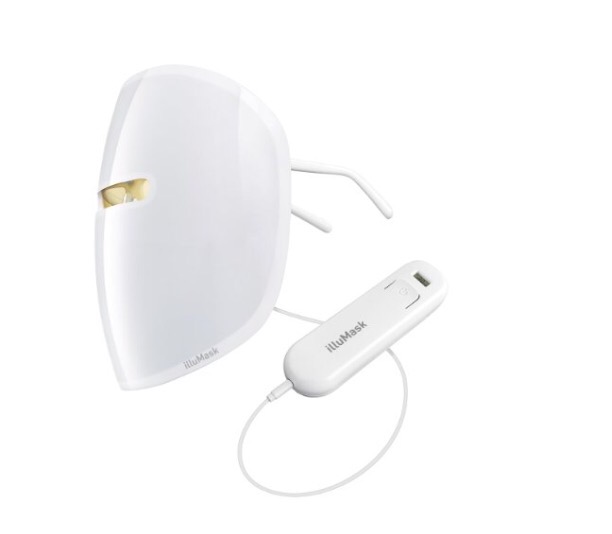 2.) IlluMask Acne Light Therapy Mask
Amazon for $17.27
The IlluMask Acne Light Therapy Mask includes both blue and red light therapy and is intended to treat mild forms of acne. It's hands free and easy to use. It's also harm free due to the fact that there are no chemicals or UV rays used. The package includes a mask and 30 different forms of treatment. This mask has wonderful reviews and the price is great. Why wouldn't you give it a shot?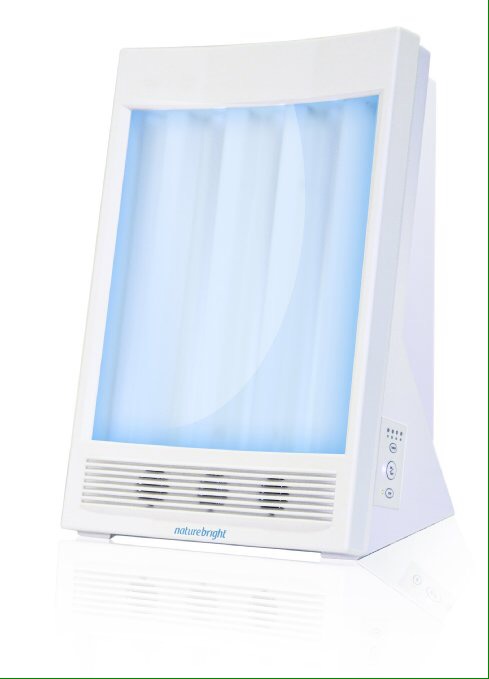 3.) NatureBright Sun Touch Plus Light and Ion Therapy Lamp
Amazon for $39.99
The NatureBright Sun Touch Plus Light and Ion Therapy Lamp uses 10,000 lux light therapy and negative ion therapy which is notable due to it's price point. This lamp is intended to balances your body's internal clock which is the main reason why Seasonal Affective Disorder exists. Once your mind and body are back on track you start to feel refreshed and energized. Ion therapy has also been proven effective when used as anti depressant and can show results in as little as three days. This lamp is recommended by the Columbia Department of Psychiatry and the New York State Psychiatry Institute. Not too bad, right?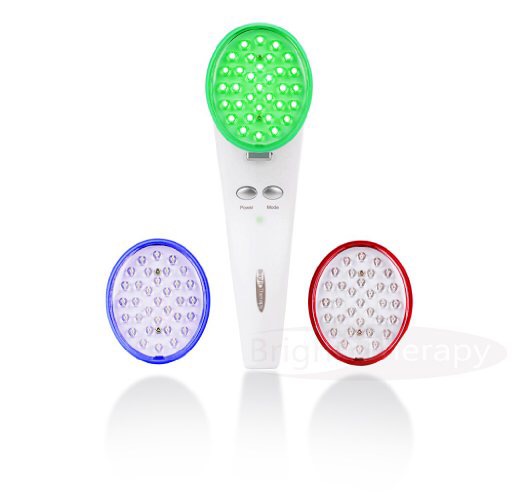 4.) LED Light Therapy Skin Care System
Amazon for $99.99
This skin care system includes three interchangeable heads. Whether you need red light, blue light, or green light to treat your skin, the LED Light Therapy Skin Care System from Bright Therapy has got you covered. This handheld device is cordless and only needs to be charged after each of your 30 minute treatments. It's simple to use due to the clean interface with just two buttons and a 10 minute timer. The LEDS in the head last 10,000 hours, which essentially means they never burn out or need to be swapped. For just under $100 and being completely drug free, this Blue Light Therapy Device may be the one for you.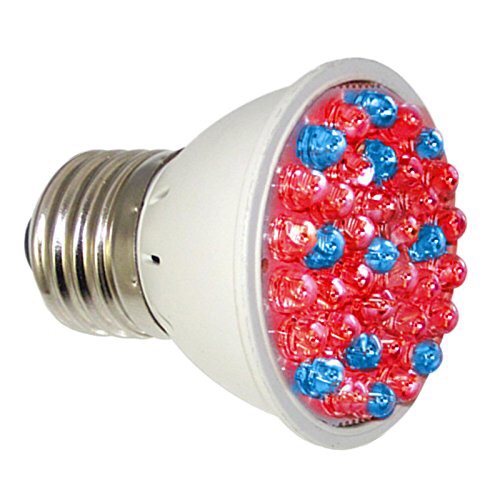 5.) RubyLux Red & Blue LED Bulb
Amazon for $19.99
Unlike most Blue Light Therapy devices, this product isn't handheld and it won't be held directly onto your skin. Instead, the RubyLux Red & Blue LED Bulb can be inserted into most lighting fixtures and lamp and boom! Simple as that, you've got a Blue Light Therapy lamp. The red bulbs are at wavelengths between 640 to 660 nanometers and the blue bulbs are at wavelengths between 400 to 415 nanometers. There are 38 LED bulbs in total and they are all closely packed together, creating a high power bulb. Because most of the bulb consists of red lighting, this lamp may not be ideal for mood disorders. Instead, this bulb was intended to treat cosmetic conditions and disorders. This is ideal for reducing inflammation from acne as well as treating skin conditions such as Rosacea and Psoriasis.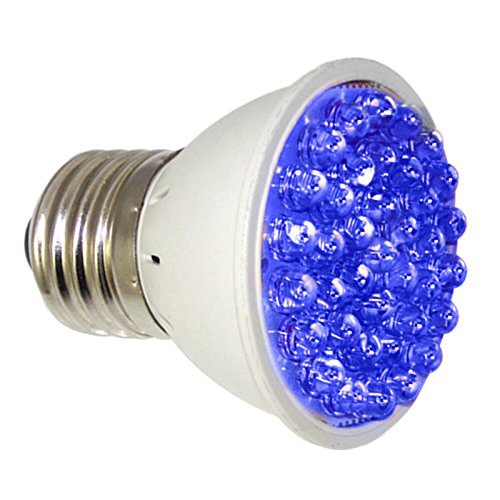 6.) RubyLux All Blue LED Bulb
Amazon for $19.99
Made by the same company as the bulb discussed above, the RubyLux All Blue LED bulb is a simple way to add Blue Light Therapy to your lifestyle. This bulb can be inserted into any light fixture, letting you experience Blue light therapy just about anywhere you choose. The bulb have blue wavelengths at 415 nanometers and is made with 38 small but high power LEDs. The LEDs are closely set together, giving you a power bulb with a tiny size. This bulb is ideal for treating skin conditions and mood disorders. For $19.99, why not give it a go?!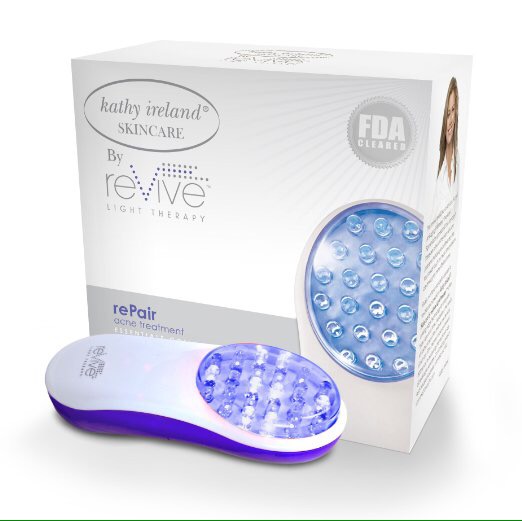 7.) ReVive Light Therapy Essentials Acne Treatment System-Blue
Amazon for $49.00
This handheld device is top of the line and can help you achieve dermatologist results in the comfort of your home. The ReVive Light Therapy Essentials Acne Treatment System was developed using the same technology that NASA used to treat astronauts in space. It's handheld, easy to use, and can treat acne, wrinkles, sore muscles, and more. The package includes a pain relief cream and anti aging solutions which are definitely worth trying!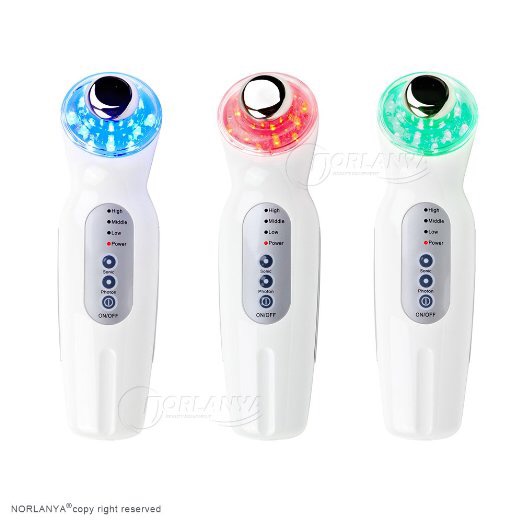 8.) NORLANYA Micro Vibration Anti Aging Photon Therapy Beauty Skin Care Machine
Amazon for $58.97
The NORLANYA Micro Vibration Photon Therapy device can be used to treat a wide array of conditions due to it's three light options. Users can choose red light, blue light, or green light, depending on the condition. The blue light is used to reduce pimples and blemishes, decrease inflammation, clear scars, reduce oil, and improve sensitive skin and rashes. The vibration waves are small and gently, slowly and effectively treating your skin. The device is hand held, small, simple to use, and has an automatic off setting which is always a good idea.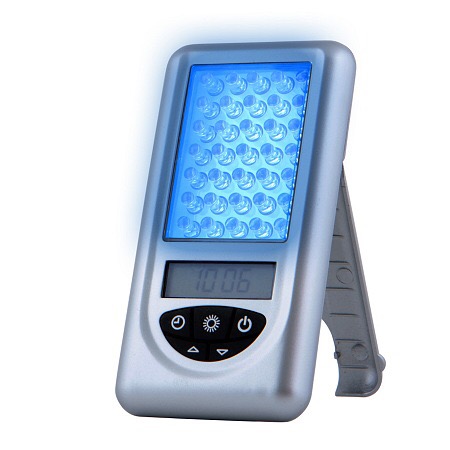 9.) Zadro Sunlight 365 Personal Artificial Sunlight Therapy
Walgreens for $59.99
The Zadro Sunlight 365 Personal Artificial Sunlight Therapy lamp is perfect for anyone who's been feeling in the dumps. This small and portable lamp has an LCD clock on the front which makes it's the perfect bedside table addition. It also has a built in timer which helps you track your usage. Along with the light intensity adjustment options, this lamp is perfect for getting your body's internal clock back in check.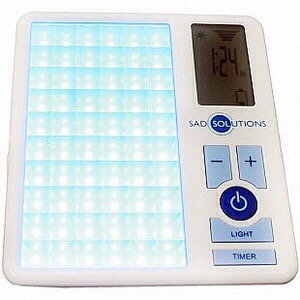 10.) Bluelight Portable SAD Therapy Light
ToolsForWellness for $99.95
The Bluelight Portable SAD Therapy Light was made to treat Seasonal Affective Disorder. This new and modern device is completely programmable, letting you create your own treatment regimem. This option makes following a set schedule so easy! The lamp is made with 60 long lasting and eye safe LED lights with wavelengths between 470 to 475 nanometers. The battery can last for up to 8 treatment sessions and uses a rechargeable battery. Keep this lamp is the padded case it comes with and you're ready to battle Seasonal Affective Disorder wherever you are!