What Is Light Therapy?
Light Therapy is the process of using different forms of light to help reduce and/or treat a wide array of conditions and disorders. Dermatologists, doctors, and psychiatrists have been using light therapy on their patients for some time. And now, thanks to the convenience of new light therapy products, you can also use the treatment at home. Light therapy has been safely and effectively changing the medical world one patient at a time.
How It Works…
Depending on the condition and the patient's state of health, light therapy treatments can vary. For skin conditions and disorders, red, blue, and green light therapy devices are used. The treatments can be applied in many different forms including body wraps, handheld wands, tanning style beds, and masks. These methods are used for chronic pain, acne, wrinkles, cellulite, rosacea, psoriasis, and more. For mental conditions, such as seasonal affective disorder or depression, light therapy lamps and boxes are typically recommended. The high powered LED lights mimic outdoor sunlight to boost energy levels, maintain regular sleep cycles, treat depression, and more. There are also more extensive and intense products being used in doctors' offices. For example, intravenous light therapy can be used post surgery to reduce inflammation and swelling. And light that is shown on the skin after certain ointments are applied to affected areas can treat many forms of skin cancer.
All of these discoveries and new insights into the world of medicine are groundbreaking and even life changing for some patients. The best part of it all, there's still so much to learn! We have barely begun to crack the surface of what light therapy can do for us.
Saving The Earth…
Just as light therapy is changing the medical field, it's also saving the earth. Saving lives and saving the earth! Does it get any better than that?
Light Therapy Options (LTO) is a Connecticut-based company that provides light therapy products to treat and heal a wide array of skin conditions and disorders. This company stands out from the rest due to it's pride in being eco-friendly.
Light Therapy Options' products are high powered LED lights that are meant to be applied to affected areas of the skin in specific, accurate wavelengths. The devices themselves aren't necessarily what makes this company stand out from the pack. There are many similar products on the market that can effectively treat and heal light therapy relying conditions. However, most of the products on the market are made of non-recyclable plastics and have a limited lifespan, along with some other features that can harm our environment.
How It Works…
Light Therapy Options stands out from the crowd for many reasons. The company aims to be as environmentally friendly as possible which is why they created these features for their products…
High Power LED: These use less electricity and reduce treatment times. Other treatments are between 10 and 30 minutes. LTO treatments are between 30 seconds and 3 minutes.
No Replacement Parts: The devices are extremely durable and have been designed to hold up through home use, travel, spa use, and more. They have a 50,000 hour lifespan. To simplify, if you use a device for 3 minutes at a time, it will last for many lifetimes.
Non-Disposable: Because of the insanely long lifespan, these products are non-disposable. LTO claims that you will never need to buy a new device.
Recyclable: Even though these products are made to be non-disposable, accidents can happen or you could run out of uses for the products. In this scenario, the products are recyclable.
No Toxic Gases: Many compact fluorescent bulbs and other light products contain toxic gases. LTO products do not.
Not Battery Operated: LTO devices are powered through a wall socket. No need to throw out batteries!
Combined Product Uses: LTO  makes some devices that work for many different conditions so you to only have to purchase one device, instead of many different ones for all of your conditions.
Why Is This So Important?
It seems that many of us get so caught up in what the earth can do for us, that we forget what we can do for the earth. We only get one earth and we need to treat it like that is the case. Every step we take towards ensuring an environmentally friendly world is a step in the right direction. While Light Therapy Options is the only company currently making eco-friendly light therapy products at such a high level, it's important to see what we can strive for. If one company can do this, why can't they all? If you are considering buying a light therapy product, make sure you check and see if Light Therapy Options has what you are looking for!
Are You Sold?
Light Therapy Options has more than 10 products on their site. We have chosen to share a couple of those devices with you to explain in further detail just how wonderful we think this company is!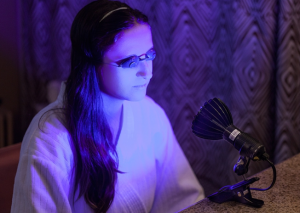 The Peak 415 Blue Light HP LED Powerhead
$259.00 (on sale!)
LightTherapyOptions.com
The Peak 415 is one of the most popular products on the website. It is available in either 120 volt or 220 volt and includes standard safety goggles to protect your eyes. Different goggle options are available to purchase as well for just a few dollars. The Peak 415 is made with a high power LED power head that is used with your own fixture (stand). It contains 48 HP LED chips and has a peak wavelength of 415 nanometers. It can be used for both personal and professional use and has been rated highly effective for treating acne. The website claims that the 415 nanometer wavelength has been identified as the most effective wavelength against acne causing bacteria without entering the UV range. It is the strongest acne light in their product line!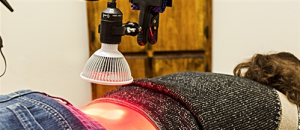 The Genesis DH Red Light / Near Infrared HP LED Powerhead
$299.00 (on sale!)
LightTherapyOptions.com
The Genesis DH is made with a high power LED head with 120 volt power and includes standard safety goggles. It has a standard sized bulb which means that you can use it with any open faced fixture you choose. The Genesis DH is specifically designed for pain relief, wound care, anti-aging, and much more. The device combines red and near infrared light therapy into one small unit which provides you with the benefits of both light therapy forms for every one of your treatment sessions. The website states that it is most commonly used as a handheld device for pain relief but it has also been proven effective while being used hands free for collagen production, anti-aging, and more. Why not give the 90 day trial period and lifetime warranty a try?
Save
Save